our Services
One Of The Most Trusted Electrical Companies in Toronto
Electrical Installation and Maintenance
Electrical Wiring
Electrical Repairs
Electric Panel Upgrades
our Services
Speciality Electrical Services
Heated Driveways
Independent Electrical Assesment
Dry Sauna & Steam Sauna
Electrical Installation and Maintenance
Electric Car Charger
Our Services
At A.S. Electrical, we provide all ranges of electrical services for residential and commercial projects. Regardless of the size, volume and complexity, our expert team of licensed electricians will complete your project on time, within budget and adhering to the highest standards of safety and professionalism
A.S. Electrical - Your Trusted Electrical Company in Toronto
A.S. Electrical Services Ltd. is a residential and commercial electrical company serving customers in the GTA. We have experience working on electrical projects of various scopes. These include large-scale industrial jobs and smaller residential electrical work. A.S Electrical has been serving clients in Toronto and all across the GTA area since 2006.
As one of the most modern electrical companies you'll find, we have the knowledge, skill and equipment required to fulfill a variety of projects. On top of that, we will bring you sound advice to help you save money on your energy bills.
Our Specializations:
Electrical Sevices
Systems & Installations
Maintenance and Repair
Our Credentials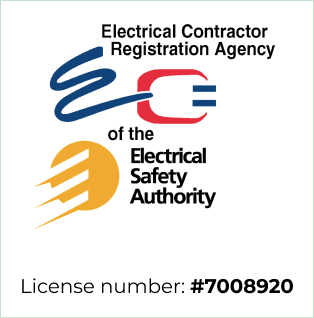 Coverage map
Why Choose A.S. Electrical for Your Electrical Needs in Toronto
We pride ourselves on the quality of our electrical work. Every member of our staff is a licensed professional with years of combined experience working on commercial, industrial, and residential projects. Like all great electrical companies, we can guarantee electrical work that follows internal and external safety standards, and exceed your expectations.